Dr. Darnice E. Pettigrew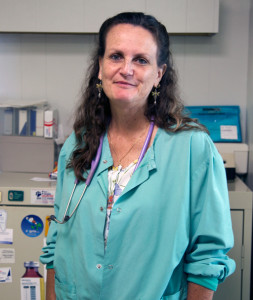 Dr. Pettigrew is one of those great stories of a kid always knowing what she wanted to do in life.  She started working for a vet at the age of 15 and has loved it ever since.  The doc walks the talk as she embraces everything  earth friendly, gardening, wildlife conservation, and green living, including building a green house and she drives a Prius sharing it all with Dema, a beagle mix, and Andy, a redbone coonhound mix, from the Society of the Prevention of Cruelty of Animals (SPCA). Graduated in 1984 from Virginia Tech with a Bachelors in Animal Science and minors in Agricultural Economics and Biology.  After graduating from University of Georgia 1986 with a Masters in Animal Nutrition, Dr. Pettigrew then graduated from VA-MD Regional College of Vet Medicine 1990 with a Doctor of Veterinary Medicine. Dr. Pettigrew worked for 7 years in Chesapeake VA and was president of the Chesapeake Humane Society. In 1997, she bought North Fork Veterinary Hospital and has run it full-time, 6 days a week since.
Dr. Pettigrew sits on a number of boards as a member including:
Member of Rockingham-Harrisonburg SPCA board of directors since 1998, currently president and for 9 years as well being vice president and secretary. Also vet-in-charge since 1998.
Member of Broadway-Timberville Ruritans since 1998, treasurer for 4 years.
Member of the Caretta Research Project since 2000 working with sea turtle conservation and assistant of a crew since 2012
Member of Friends of the North Fork River since 2004 and takes biweekly water sample to be monitored for pollutants.
Member of the Broadway-Timberville Chamber of Commerce since 1998, received outstanding Citizen of the Year in 2011.
Worked with researchers from the Marine Science Conservancy in Belize with dolphins,
Worked with researcher in Massachusetts dealing with urban coyotes,
Worked with Earthwatch in Trinidad with leatherback sea turtles,
Kayaked the Baja to see whales and snorkel with sea lions.
Have talked to numerous school groups about various subjects.
Sue Dye, Receptionist
Sue has worked at NFVH since August 1998.
She is a true animal lover who takes great pride in her show dog life, showing for 40 years. She is married and has a son named Matt and 3 Samoyeds "Kid" & "Digby".
Alexis Golliday, Veterinary Assistant/Receptionist
Graduated from Stonewall Jackson High School in 2015 and studied online through Animal Behavioral College to become a certified Veterinary Assistant. Worked at North Fork Vet since August 2015. She has 2 dogs and 3 cats and likes long walks on the beach.
Amanda Wilkes, Veterinary Assistant/Receptionist
Amanda has worked at NFVH since February 2014 and loves it. She's married with two children, has one dog and two cats, and loves spending time with her family.
Rosalie Chambers, LVT
Rosalie joined the North Fork team in July 2016. She graduated from BRCC as a nationally licensed veterinary technician in May 2012. Previously she spent 7 years in the Air Force and then traveling with her husband and children for the rest of their military life. They moved to the Shenandoah Valley in 2005. They live with their 3 dogs, horses, cats, goats, a llama and a flock of chickens.