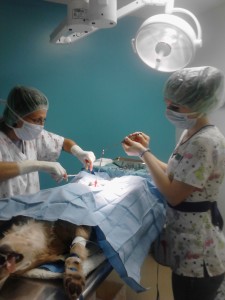 North Fork Veterinary Hospital is an advanced surgery set up that handles all sorts of issues, including but not limited too, spay/neuters, growth removals for biopsy, cystotomy, entropian, gastropexy, cherry eye, declaws, exploratory and more.
Your pet's spay or neuter maybe their one and only surgery so it should be treated with the importance it deserves. We treat them like our own pets. We use the safest IV and anesthetic gases available and your pet is monitored with various equipment.
Bloodwork is done prior to surgery to assess their health status. Pain medications are given before, during and after to keep your pet comfortable and an assistant is present at all times. A circulating hot water blanket is used to keep your pet warm.
Most of the time, your pet is the only surgery that day, so that they can be closely monitored all day. They are done first thing in the morning so they are ready to go home that afternoon. A free nail trim is included.