We love our pets as much as you do. We're just like you – people who have dogs cats, and other pets as part of your family, and so we understand that providing needed information and services, we can assist our community of animal lovers in the quest to keep your pets as healthy as possible, providing full range of care available to your pet, including:
We specialize in behavior consults helping you make your pet the best pet possible.We can help you find the right pet for your needs, working closely with the Rockingham- Harrisonburg SPCA. Undesirable behaviors negatively impact the relationship we have with our pets. Creating a better life for you and your pet by preventing and treating negative behavioral problems using a combination of compassion and scientific methodology that nurtures the human-animal bond is our long standing community goal.
Dr. Pettigrew is very close to becoming a certified in cruelty and forensic medicine to help all those defenseless animals who have been abused.
We have a new IM3 dental machine for cleaning, polishing, extractions. Your pet will also receive a fluoride treatment and we will teach you how to do home care. This is very important because otherwise your pet's teeth will need another dental within 6 months to a year. We have numerous products for your pet's teeth as well as special diets available.
Sometimes hospitalization is inevitable. We are a full service hospital complete with IV fluid pumps, continuous monitoring, etc…  We have an isolation room to keep contagious diseases separate from the rest of the hospital so your pet can recover in quiet. As well, we provide heart-worm treatments. Having worked in southeast VA,  where it is very prevalent, before coming here, Dr. Pettigrew has treated hundreds of patients with great success. Our service is not without a backup plan.  We work with the local emergency clinic.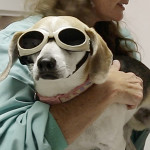 We provide laser therapy to help care for animals who have had surgery, been injured or suffer from chronic pain. Just like with humans, laser therapy can speed an animal's recovery many times fold and improve their quality of life. Treatment consists of "hands-on" care including therapeutic exercise and functional training, educating pet owners to take care of their animal friends themselves, to perform certain exercises on their own, offering the therapy needed to heal your pet
We have a full in house lab to run tests with results usually in 10 minutes. We can check liver, kidney and for diabetes as well as infections, anemia, electrolyte imbalances andother diseases. We also do urinanalysis, fecals for intestinal parasites, skin, ear and fecal cytology, feline leukemia, FIV and heart worm tests. We can check for tick borne diseases as well as ringworm and parvovirus. We also use outside labs for biopsies and numerous other tests.
All pets should wear collar tags imprinted with their name and the phone number of their pet parent, but only a microchip provides permanent ID that cannot fall off, be removed, or become impossible to read. We offer microchipping so if your pet becomes lost, they stand the best chance of being found. We scan any found pets for free and scan all new patients.
We provide physical therapy after your pet providing rehabilitative care to animals who have had surgery, been injured or suffer from chronic pain. Just like with humans, physical therapy can speed an animal's recovery many times fold and improve their quality of life.
No question is too small or silly to ask.  Prevention is everything just as it is with us as humans. Our animals friends need to be healthy and happy to start with.  Nutrition, behavior counseling, and yearly blood work, urinanalysis, diet assessment, and a general health exam. go a long way. If your pet needs them, we have chest x-rays, EKGs and hip radiographs, puppy & kitten care including vaccinations, deworming, flea & tick medications and full exams to check your pet's health. Continued care of pet thru their adult years will help take them into their later years gracefully.
Radiology is an important part of our work being the sight to unveil what's under the skin which assist in our prognosis of issues. We provide high quality veterinary medical imaging and interpretation of diagnostic images such as MRI scans, CT scans, ultrasound scans, nuclear medicine scans, and radiographs to detect injury or disease to help us diagnose problems.
North Fork Veterinary Hospital is an advanced surgery set up that handles all sorts of issues, including but not limited too, Spay/neuters, growth removals for biopsy, cystotomy, entropian, gastropexy, cherry eye, declaws, exploratory and more.
ALL OTHER
All you have to do is ask.  We are a full service facility.  What we don't have we will direct you to who can help you.